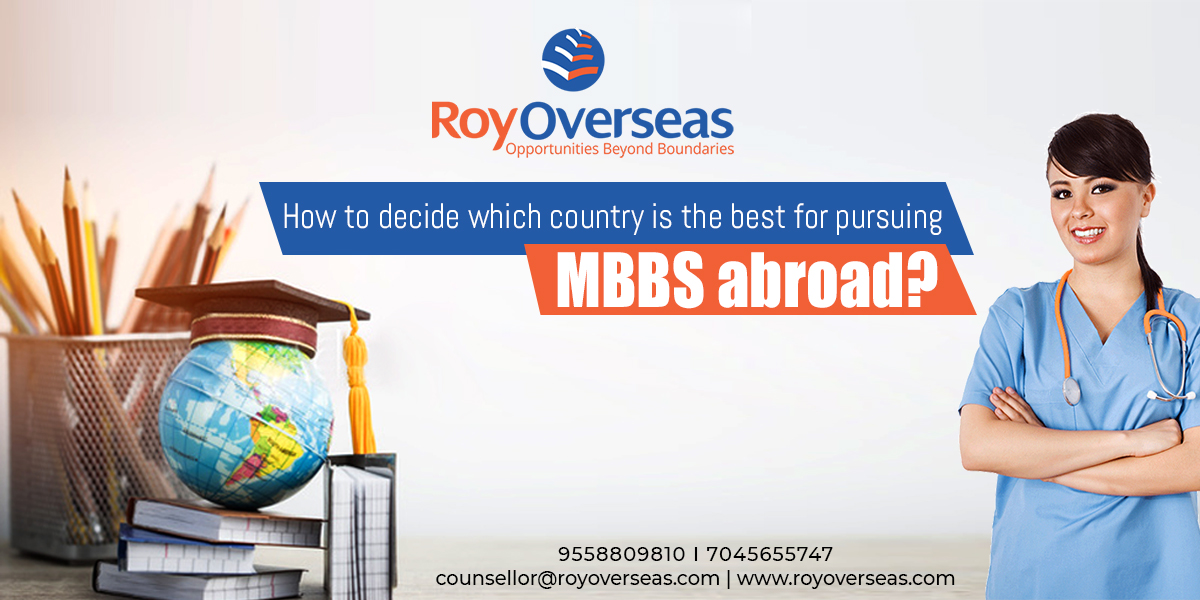 Many aspiring Indian doctors are opting to pursue their MBBS degrees outside of the country due to the exorbitant costs and intense competition at home among private medical schools. One of the best option for becoming a doctor is to study for your MBBS degree outside of India, as this degree is widely recognised and respected all around the world. This is the primary motivation for students to find the best and cheapest country to study abroad and pursue MBBS programmes, but there are a few things to bear in mind while selecting a medical school in your preferred countryto ensure a stress-free and rewarding experience.
Some students may be scammed by agents who only want to make money outof their admission to a university, thus it is crucial to know how to choose your preferred university or college to study MBBS abroad. If you don't know how to select a college or procedure of applying to your preferred college,consult the best education consultant in Vadodara, Roy Overseas for the MBBS Admissions abroad.
If you want to avoid making a poor decision when selecting an institution from whereto earn your MBBS degree. When reservingyour university for medical school, keep these things in mind. Becoming a doctor with a globally recognised degree is not just about earning an MBBS degree; it's also about spending five to six years away from home, adjusting to a new culture and way of life, and getting the right and important education to do so.
How to decide which country is the best for pursuing MBBS abroad?
- University's Establishment Year:
When considering where to get your MBBS degree, one of the most important considerations is the establishment year of the University/College. A reliable educational institution that has consistently produced qualified medical professionals is one that has been around for at least 50 years.
Several recently established universities present themselves as superior options. There are a number of new colleges that are faring well in their early stages, so this doesn't always indicate a general decline in educational quality or excellence. The bottom line is that experience counts, and the longer a school has been around, the better its instruction has been.
- Budget and Living Costs:
When deciding from where to pursue MBBS, this is a typical consideration. University options for an MBBS degree range from somewhere between INR 12 Lakh and INR 15 Lakh, or from somewhere between INR 25 Lakh and INR 40 Lakh. See which countries have lower or higher living costs than India, as well as those with costs that are about the same. You'll need to do all your best researchwhen picking a medical school.
- Recognition:
When choosing a university to pursue your MBBS Abroad, reputation is just as crucial as ranking. The requirements are what prove the institute's worth. As a result, the studentslearn to trust the institution more. The university needs to be accredited by a minimum of two organisations in order to attract Indian medical students looking to study MBBS Abroad.
If a medical school is approved by the National Medical Council (NMC), then it is safe to presume that it complies with the standards set forth by the Indian Medical Council.
If a medical school is approved by the World Health Organization (WHO), it is safe to presume that it complies with all applicable international criteria for medical education.
- Education Quality:
One important consideration when deciding which medical school to apply, one should consider the percentageof graduates who have passed the FMGE exam after completing MBBS from that medical school.Students should keep these things in mind as they evaluate the quality of their education and then should meet with an excellent education consultant in Vadodarawho would provide them detailed report of Passing Percentage of all medical schools for last 5-6 years.
The quality of a medical school'seducation can be judged by looking at metrics like the passing rate of the Foreign Medical Graduate Examination (FMGE) and the number of batches produced each year. It's achievable if the school you attend offers a good mix of classroom instruction and hands-on experience.
- Medium of instruction:
The only acceptable language of instruction is English. This is significant because some schools provide dual-language programmes, with half of the courses taught in English and the other half taught in the local language. Additionally, if the faculty does not speak English or solely uses the local tongue in class, that creates a barrier to communication.
Choose a medical school where English is the primary language of teaching and all courses are taught in English to avoid this issue. As a result, you will have a much better grasp of every single medical idea.
- Course Duration:
The MBBS programme at any of India's private or public universities takes 4.5 years, followed by a year of internship. It is important to consider the length of the programme when applying to medical schools abroad. There are many countries where you can get your MBBS degree in 6 years, which is fine, but if you can get it in 5, that's the best deal you can get.
Considering that preeminent nations such as Ukraine, Russia, as well as Georgia only offer 6-year MBBS programs, there is no downside to opting for this route. So, it all depends on the spot you pick! Both degrees are equally respected and valued, but those who opt for the shorter 5-year MBBS programme will graduate a year earlier.
- Accommodation and Indian Mess:
You can't disregard the importance of eating and sleeping. Many international students have told us that the food is the main reason they decided to return to India. Success in school calls for a quiet, clean, and sanitary living space as well as the consumption of nutritious fare that satisfies individual dietary preferences. Roy Overseas is one of the best international education consultants in Vadodarawhom you should consult for the MBBS study abroad since they would help you with In- Campus hostel facilities and Indian Mess.
In many places around the world, Indian cuisine is a rarity but can be found in others. Since it's impossible for anyone to forego his preferred cuisine for an extended period of time, it's crucial to choose a university near a hub of Indian culture.
The decision to leave home to pursue MBBS overseas is never easy, but you must do so if you want to fulfil your ambition.
In this blog we have discussed the points to consider while choosing the best country for pursuing MBBS abroad. We hope all of your doubts are cleared and if not, ask the industry experts at Roy Overseas today.
If you need any sort of guidance regarding career, admissions or wish to compare colleges or universities, should visit our website today or write to us.